Aquair 100 ~ Hybrid wind & water power for long distance sailing
If you haven't experienced trailing generators and how they work, now's the time to try them!
Power generation is always a vexed question on a yacht – how much do you need? How will you generate that need? The modern sailing boat needs power – that is, if you want electronic instruments, computers, autopilots, as well as those items of personal comfort, refrigerators, deep freezes or microwaves.
Starting the engine every day to generate this power is a simple solution, as more systems means more complexity, and that means more stuff to break down or otherwise 'go wrong'. However, that is not a viable option because fuel today is not only environmentally harmful but also expensive and getting more and more expensive. The wind and the sun are more and more being exploited by governments of the world in an effort to cut the use of depleting reserves of ecologically harmful fuels, and the cruising sailor need to take this 'on-board' as well.
The Aquair 100 water turbine has been designed specifically for charging batteries over long distance crossings and converts to a wind turbine at anchor. It has been reliably powering boats over long distance crossings and at anchor for 35 years. Mounted to the stern of the boat and trailing a towed water turbine on 30 metre line, the unit provides over 6 Amps continuously at 7 knots.
At anchor, the unit can be converted to run as a wind turbine. Unlike their competitors, Ampair have maintained a very small form factor for the Aquair making it the smallest hybrid generator on the market. If you are making an ocean crossing the Aquair 100 is perfectly suited.
Water Mode – The Aquair 100 is designed for yachts cruising at 4-15 kts. The standard pitch turbine surfaces at 7kts and skips at higher speeds, so a coarse pitch turbine is used on yachts which sail at 8-12 kts. At 7kts the turbines drag is 17 lbs: it will not noticeably slow the yacht . The standard stainless steel gimbal ring mounting provides a simple and automatic alignment method and can be rigged into the push-pit or mounted in the optional frame for boats without a push-pit. The shaft connector is designed to break to save the generator and push pit if the turbine becomes trapped.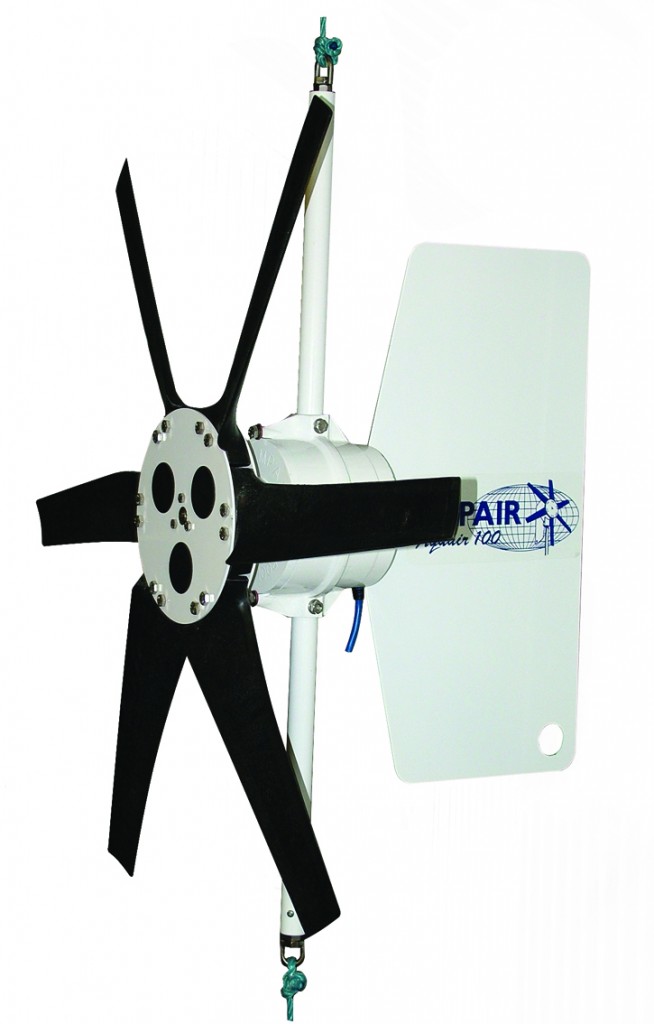 Wind Mode – The Aquair 100 can also be used as a wind turbine when at anchor or in harbour. Using a "rope only", hoist-in-the-rigging system (HIR). A halyard lifts the Aquair 100 away from busy cockpit into clear air. No noise or vibration to worry about! A pole mount option is available for yachts with stern gantry or similar. A short pole is welded, clamped etc. to an existing structure. A single electrical connection then serves wind and water modes.
Advantages – Use of the Aquair 100 greatly reduces the frequency of engine running to recharge service batteries. The turbine generates sufficient power to run an autopilot, maintain navigation equipment or support a fridge. It produces a continuous output of up to 6 Amps at 12 volts. Its permanent magnet alternator with built in rectifiers has no commutator brushes and the windings cannot overheat so it requires no thermal cut-outs or protection.
Regulator – The Aquair 100 can be used without a regulator in water mode as you can just pull in the line if the batteries are charged, if you prefer autonomy and will also use the turbine in wind mode any of the 100 series regulators can be used.
We are the official Irish distributors and installers of Ampair products. We have been supplying various sailing clubs and the Marine industry throughout Ireland with the Aquair 100. If you would like more information on this or other Ampair products or would like to receive a brochure please contact us here.
Comments