We were invited to come along to Cabragh Wetlands to speak about renewable energy products and how they can benefit homeowners and businesses. There was great interest on the day and homeowners, farmers and businesses alike were all interested in ways to reduce their energy costs.
Cabragh Wetlands  are committed to the three-fold vision of conservation, education and recreation. A wide variety of activities are offered on an ongoing basis to the general public, with the aim to create a greater awareness to the conservation and appreciation of our natural environment.
The Cabragh Wetlands Trust was registered in 1993 in an effort to save a vast area of wetland habitats from destruction after the filling-in of the settling pools by the Thurles Sugar Factory during its closure. These lagoons used to be an oasis of wildlife, particularly birds. The Trust was formed and acquired the land adjacent to the filled-in lagoons to ensure the continuation of this resting place for migratory birds.
Funding was made available through the LEADER programme and this enabled the necessary work to be carried out. Over a couple of years fencing was put in place, ponds were excavated, two bird-hides were built and walkways developed, a car park was laid out and finally a Visitor-cum-Education centre was built.
The Centre is run by a group of committed volunteers who provide exciting field trips for children of primary school age. The Wetlands have no less than 15 different habitats including ponds, reed swamps, hedgerows, streams and wild flower meadows. Footpaths and raised walkways with beautifully illustrated information boards as well as a large bird hide make an ideal place for school children to discover the sights and sounds of nature in a safe and child friendly environment.
The Cabragh Wetlands Trust is a charity organisation and is relying solely on the goodwill of benefactors and volunteers for the maintenance and development of the centre. With the conservation of the site and the essential infrastructure in place, the Trust is now focusing on its second main aim, namely education. Although Cabragh Wetlands has the magnificent outdoors to offer and a beautiful information centre further work needs to be done.
A wide variety of activities are offered throughout the year to the general public to help create a greater awareness of conservation and also appreciation of our natural environment. During the Summer months a number of guided walks take place through the wetland with pond dipping and identifying wild flowers, trees, bugs and birds as well as workshops on a number of topics including bird box making and planting hedgerows. A series of Winter lectures are also held each year with topics ranging from 'The Cosmic Walk', 'Bee-keeping', 'Nature and the First World War' to 'Heritage and the Tipperary Landscape'.
Primary schools can avail of the following educational field trips: Exploring a Hedgerow & Exploring a Pond. The children will have a chance to watch birds from the hide, go pond dipping, identify the creatures they have caught and visit the nature table at the centre. Students in second level education participating in young scientist projects are more than welcome to come along to explore and utilise Cabragh Wetlands as a source of data collection. Advanced field trips are available for second level students also.
An amazing display of 'recycled' art.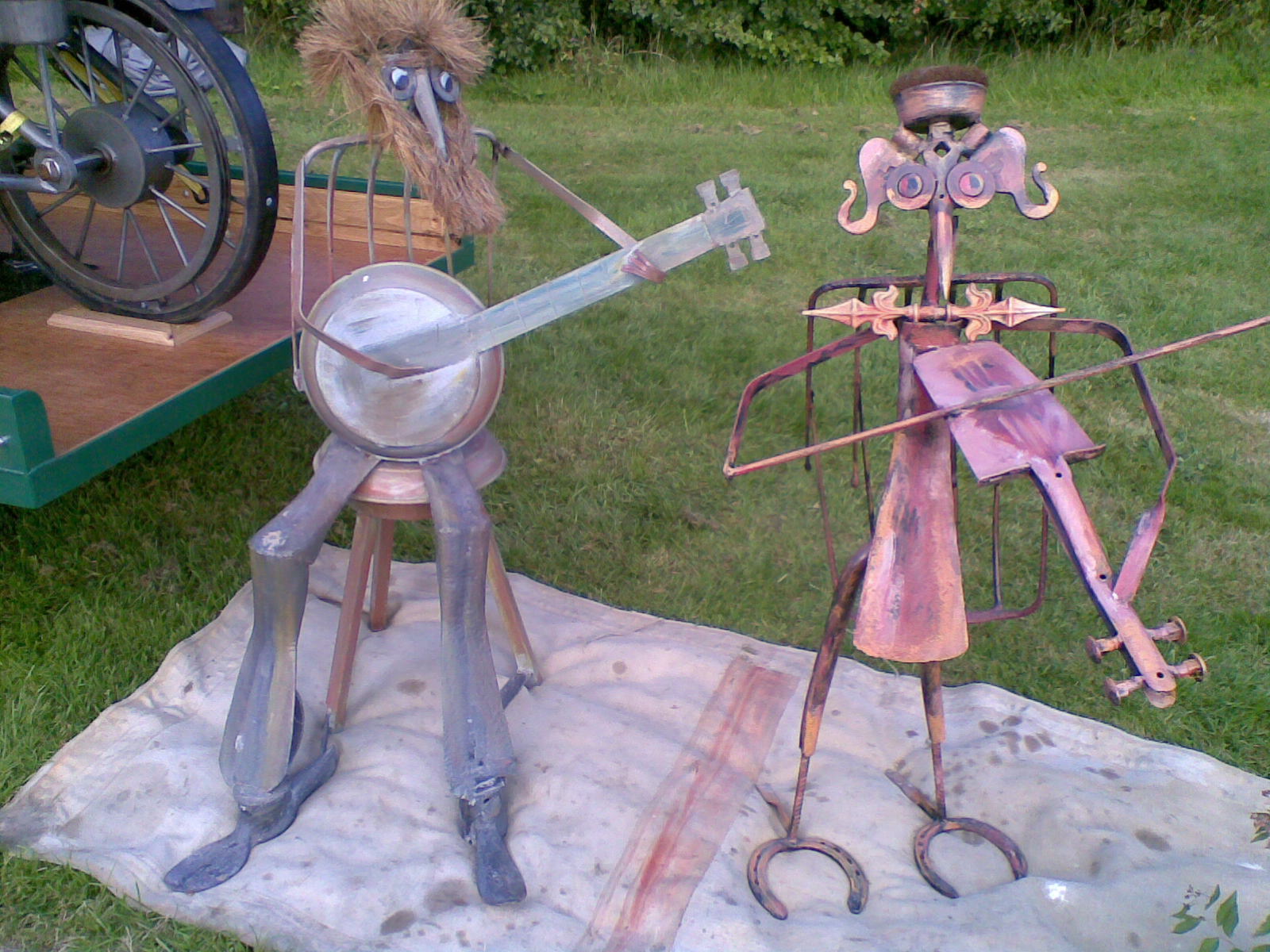 Locally grown fruit, vegetables, juices and home baking were also on display.
We would like to take this opportunity to wish Cabragh Wetlands all the best in the future and well done on the great achievements to date.
Photographs copyright of Eco Evolution