Practical On-farm Renewable Energy event at CAFRE's Greenmount Campus 1st November 2011
Following on from its success in 2010, the "Practical On-farm Renewable Energy" event will be held once again on Tuesday 1st  November 2011 at Greenmount Campus. The event will run from 11.00am until 9.00pm in the evening.
DARD has again joined forces with the Ulster Farmers Union (UFU), and the Agri-Food and Biosciences Institute (AFBI) to provide practical information for farmers and the rural sector about the various renewable energy options available for their businesses.
There will be a series of seminars throughout the day on each of the main renewable energy technologies; wind power, biomass production and utilisation, anaerobic digestion, solar hot water, micro-hydro and heat pumps.
A second series of seminars will deal with many of issues facing those considering installing a green energy source. Topics covered will include the proposed Renewable Heat Incentive (RHI), grid connection, planning, NI Renewable Obligation Certificates (NIROC's), marketing NIROC's as well as finance and funding options.
In addition there will be a Trade Exhibition and the opportunity to tour the renewable energy installations at Greenmount Campus.
If you are interested in exhibiting in the trade stand area please contact CAFRE at technology.admin@dardni.gov.uk or telephone 028 9442 6770. As space is limited it will be allocated on a first come first served basis.
For further details contact David Trimble at 028 9442 6682 or david.trimble@dardni.gov.uk.
As a result of feedback from attendees last year, a follow-up event will also be held at CAFRE's Enniskillen Campus on 22 February 2012.
Seminar programme for CAFRE, 1 November 2011
Start Time

Technology Seminar

Speaker

Meeting the Challenges

Speaker

11.30

On-farm Energy Efficiency

David Trimble

Funding

Gareth Gormley

12.00

Biomass

Production
Utilisation
Economics
RHI
Case study

 

Alistair McCrackenLindsay EassonPeter Hutchinson

Simon Best

Grid connection

Gerry Hodgkinson

12.30

Finance

Trevor Finlay

13.00

Planning Permission

Planning Service

13.30

Solar hot water

Martin Mulholland

Taxation

Anne Douglas

14.00

AD

 

Technology
Planning
Grid & PPA
Finance
Case study

 

 

Nigel MoorePlanner

Andy McCrea

Trevor Finlay

Jim Torney

Renewable Heat Incentive

Peter Hutchinson

14.30

NIROCs

Michael Harris

15.00

Funding

Gareth Gormley

15.30

Planning Permission

Planning Service

16.00

Micro-hydro

Eoin McCambridge

Marketing NIROCs

Jonathan Buick

16.30

Heat pumps

David Trimble

Grid connection

Gerry Hodgkinson

17.00

Solar PV

Greg Forbes

Taxation

Anne Douglas

17.30

Solar hot water

Martin Mulholland

Planning Permission

Planning Service

18.00

Micro-hydro

Eoin McCambridge

Funding

Gareth Gormley

18.30

Heat Pumps

David Trimble

NIROCs

Michael Harris

19.00

Wind

Technology
Planning
Grid & PPA
Finance
Taxation
Case study

 

Anita WattsPlannerAndy McCrea

Trevor Finlay

Anne Douglas

James Carson

RHI

Peter Hutchinson

19.30

 

 

20.00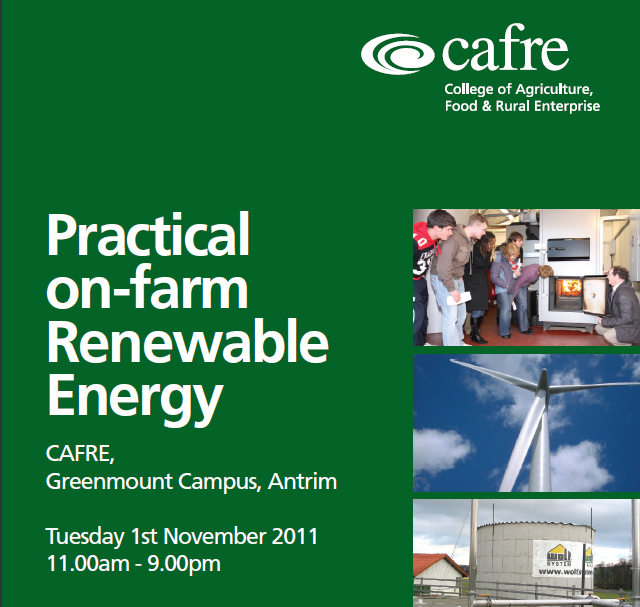 Comments